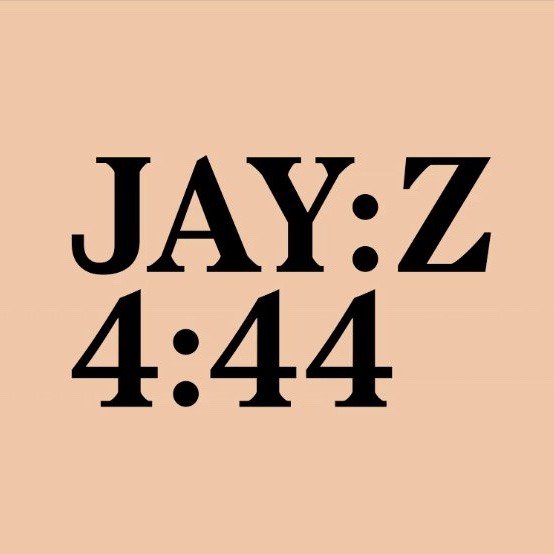 UPDATE : Young Guru vient de confirmer que la chanson « Adnis » dont on a entendu un extrait dans un teaser de l'album, sera incluse sur la version physique, 2 autres bonus tracks y seront dont une avec James Blake.
Ils font chier avec leur guéguerre des plateformes de streaming, on est obligé de se prendre 3 abonnements différents si on veut pouvoir écouter tous les albums, c'est très relou. Tu l'as compris, exclu Tidal, c'est con la tracklist me chauffe, 10 tracks, Frank Ocean et Damien Marley en seuls featurings, No I.D. producteur exécutif, les titres et les petites descriptions annoncent un projet très personnel et les premiers retours le confirment avec Jay-Z qui s'excuse pour ses infidélités décrites dans Lemonade de Beyoncé, qui parle de sa relation avec son père et tacle Kanye dans Kill Jay-Z…
Le clip animé de la chanson « The Story Of O.J. » accompagne la sortie de l'album, les 30 premières secondes sont très sympas !
Jay-Z a également commenté chaque chanson de l'album en dévoilant les samples :
"Kill JAY-Z"

"The first song is called 'Kill JAY-Z' and obviously, it's not to be taken literal. It's really about the ego. It's about killing off the ego, so we can have this conversation in a place of vulnerability and honesty."
Samples : The Alan Parsons Project's "Don't Let It Show," Kool & the Gang's "Kool's Back Again"
"The Story of OJ"

"'The Story of OJ' is really a song about we as a culture, having a plan, how we're gonna push this forward. We all make money, and then we all lose money, as artists especially. But how, when you have some type of success, to transform that into something bigger."
Samples : Nina Simone's "Four Women"
"Smile"

"'Smile' is just what it is. There are gonna be bad times, and those bad times can do two things: they can get you in a place where you're stuck in a rut, or it can make your future that much better because you've experienced these things."
Samples : Stevie Wonder's "Love's In Need Of Love Today"
"Caught Their Eyes"

"'Caught Their Eyes' is a song that's dealing with just being aware of your surroundings. There's a line in it, and it says, 'Your body language is all remedial, how could you see the difference between you and I?' Just being so sharp about your surroundings."
Samples : Nina Simone's "Baltimore"

"4:44"
"'4:44' is a song that I wrote, and it's the crux of the album, just right in the middle of the album. And I woke up, literally, at 4:44 in the morning, 4:44 AM, to write this song. So it became the title of the album and everything. It's the title track because it's such a powerful song, and I just believe one of the best songs I've ever written."
Samples : Hannah Williams and the Affirmations' "Late Nights and Heart Breaks"
"Family Feud"

"'Family Feud' is about separation within the culture. Like, new rappers fighting with old rappers, saying all these things. So, the line is, 'Nobody wins when the family feuds.'"
Samples : Clark Sisters' "Ha Ya"

"Bam"

"The song 'Bam' with Damian Marley, it's just jammin', it's just like the song. But it's secretly Shawn Carter saying, 'Man, you need a bit of ego.' It was because of me and the things that I've done, this is JAY-Z saying you needed a bit of ego for us to arrive at this point."
Samples : Sister Nancy's "Bam Bam," Jacob Miller's "Tenement Yard"
"Moonlight"

"The hook is 'We stuck in La La Land/Even if we win, we gonna lose.' It's like a subtle nod to La La Land winning the Oscar, and then having to give it to Moonlight. It's really a commentary on the culture and where we're going."
Samples : the Fugees' "Fu-Gee-La"
"Marcy Me"

"'Marcy Me' is a nostalgic walk through Marcy, and it's about that hopefulness, that feeling of 'Man, can I really do this? Can I really be one of the biggest artists in the world?' You have these dreams, 'Can I be one of the biggest basketball players?' We have these dreams."
Samples : Quarteto 1111's "odo O Mundo E Ninguém"

"Legacy"

"The song is just about what it is, it's like a verbal will. Just a song about speaking to my daughter. She starts the song off, and she says 'Daddy, what's a will?'"
Samples : Donny Hathaway's "Someday We'll All Be Free," Raekwon's "Glaciers of Ice"
Voilà voilà, les team Tidal, vous avez pu écouter le projet ? C'est comment ?
Pour les fans de Hov' on a ses 3 classiques en vinyle sur le shop : Reasonable Doubt, The Blueprint, The Black Album.
Et le vinyle « deluxe » de Watch The Throne, un délire le package !