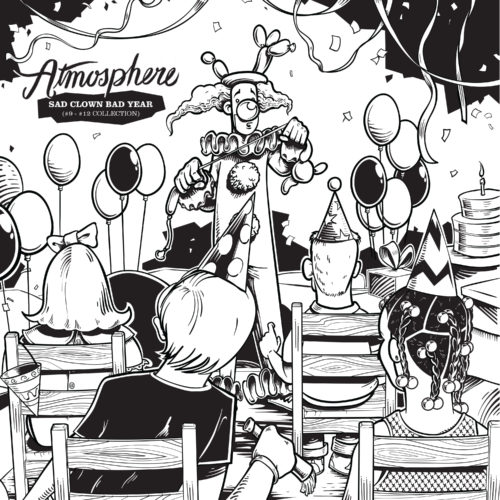 Atmosphere – Sad Clown Bad Year [Black & White Vinyl 10th Anniversary 4 EP]
In celebration of the 10-year anniversary of Atmosphere's iconic Sad Clown Bad Summer, Fall, Winter & Spring EP's, they are now available in one complete vinyl package for the first time ever! Consisting of 20 songs, encompassing fan favorites such as "Don't Forget" , "The Rooster", "Not Another Day", "Happymess", and most notably, "Sunshine", arguably Atmosphere's biggest song to date.
This special edition vinyl comes packaged with half black & half white double vinyl, colorable gatefold vinyl jacket housing 6-custom made crayons, an 8-page activity and coloring booklet, and a free digital download card. Completely illustrated and designed by original Sad Clown artist Adam Martin. Additionally all Fifth Element orders receive a instant digital download of the full album! (MP3's must be download on a computer).
Album : Sad Clown Bad Year
Artist : Atmosphere
Condition : New
Format : Vinyl, 2 LP, Album
Label : Rhymesayers
Edition : 2018 – Black & White Vinyl
Release Date : 2008
Style : Hip-Hop / Rap US / Underground
Only 1 left in stock
---
---
Tracklist : 
Side A
01: Sunshine
02: The Number One
03: RFTC
04: Mattress
05: Don't Forget
Side B
06: Peyote
07: Party Over Here
08: Makes The Sun Come Out
09: The Rooster
10: Lyndale Avenue User's Manual
Side C
11: Don't Stop
12: 66th Street
13: They All Get Mad At You
14: Beautiful 
15: Ha, This One Is About Alcohol Too
Side D
16: Less One
17: Good Daddy
18: Carry Me Home
19: Happymess
20: Not Another Day
Les meilleurs morceaux d'Atmosphere à retrouver dans la playlist Hip-Hop 4 Life : GodLovesUgly.
Additional information
| | |
| --- | --- |
| Weight | 750 g |
| Dimensions | 30 × 30 × 1 cm |