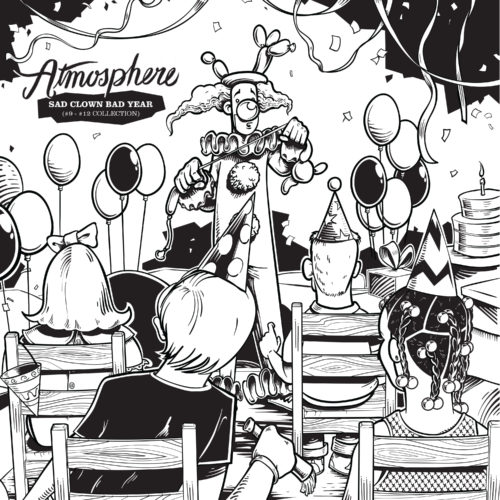 Atmosphere – Sad Clown Bad Year [Vinyle Noir & Blanc 10e Anniversaire 4 EP]
Pour célébrer les 10 ans des emblématiques EP Bad Clown Bad Summer, Fall, Winter & Spring d'Atmosphere, Rhymesayers les sort pour la première fois sur un vinyle complet composé de 20 chansons dont les classiques "Don't Forget", "The Rooster", "Not Another Day", "Happymess", et bien sûr "Sunshine".
Cette édition spéciale contient 2 LP moitié noirs moitié blancs, une pochette et des dessins inédits à colorier et conçus par Adam Martin (l'artiste derrière les artworks des EP Sad Clown), des crayons de couleur, un livret de 8 pages et une carte de téléchargement numérique.
Album : Sad Clown Bad Year
Artiste : Atmosphere
Etat : Neuf
Format : Vinyle, 2 LP, Album
Label : Rhymesayers
Edition : 2018 – Vinyle Noir & Blanc
Date de sortie : 2008
Genre : Hip-Hop / Rap US / Underground
En stock
---
---
Tracklist : 
Side A
01: Sunshine
02: The Number One
03: RFTC
04: Mattress
05: Don't Forget
Side B
06: Peyote
07: Party Over Here
08: Makes The Sun Come Out
09: The Rooster
10: Lyndale Avenue User's Manual
Side C
11: Don't Stop
12: 66th Street
13: They All Get Mad At You
14: Beautiful 
15: Ha, This One Is About Alcohol Too
Side D
16: Less One
17: Good Daddy
18: Carry Me Home
19: Happymess
20: Not Another Day
Les meilleurs morceaux d'Atmosphere à retrouver dans la playlist Hip-Hop 4 Life : GodLovesUgly.
Informations complémentaires
| | |
| --- | --- |
| Poids | 750 g |
| Dimensions | 30 × 30 × 1 cm |