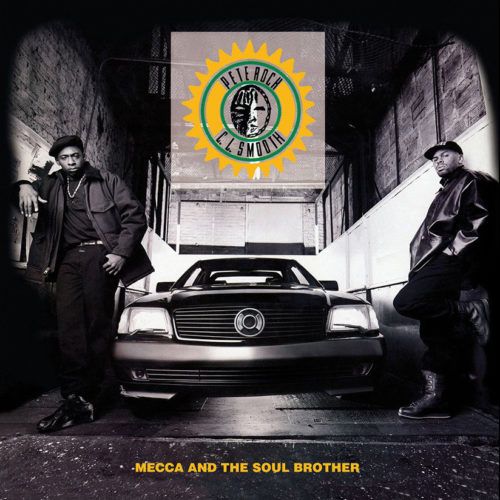 Pete Rock & CL Smooth – Mecca and the Soul Brother [Vinyle]
Album : Mecca and the Soul Brother
Artiste : Pete Rock & CL Smooth
Etat : Neuf
Format : Vinyle, LP, Album
Label : Elektra
Edition : Originale
Date de sortie : 1992
Genre : Hip-Hop / Rap US / Jazz Rap / East Coast
En stock
---
---
À l'image de Guru & DJ Premier, Pete Rock & CL Smooth forment un duo mythique de New York composé d'un producteur et d'un rappeur.
Et comme Gang Starr, la force du groupe réside surtout dans le génie de son producteur, on ne présente plus Pete Rock, responsable d'un nombre incalculable de classiques du rap, de The World Is Yours au remix de Shut 'Em Down en passant par Juicy (non non, ce n'est pas Diddy), il a influencé un paquet de beatmakers dont les légendes 9th Wonder, Kanye West ou encore J. Dilla.
Cet expert du crate-digging nous éblouit avec une collection de samples jazz complètement dingues avec en point d'orgue le classique They Reminisce Over You, à classer au panthéon des meilleurs morceaux rap de tous les temps.
Tracklist
1. Return Of The Mecca
2. For Pete's Sake
3. Ghettos Of The Mind
4. Lots Of Lovin (Ft. Terri Robinson & Tabitha Brace)
5. Act Like You Know
6. Straighten It Out
7. Soul Brother #1
8. Wig Out
9. Anger In The Nation
10. They Reminisce Over You (T.R.O.Y.)
11. On And On
12. It's Like That
13. Can't Front On Me
14. The Basement (Ft. Grap Luva, Heavy D, Rob-O & Deda)
15. If It Ain't Rough, It Ain't Right
16. Skinz (Ft. Grand Puba)
Si tu es fan de Pete Rock, je t'invite à écouter son dernier excellent projet avec Smoke DZA sorti l'année dernière, Don't Smoke Rock, en écoute sur Hip-Hop 4 Life ici.

Informations complémentaires
| | |
| --- | --- |
| Poids | 750 g |
| Dimensions | 30 × 30 × 1 cm |