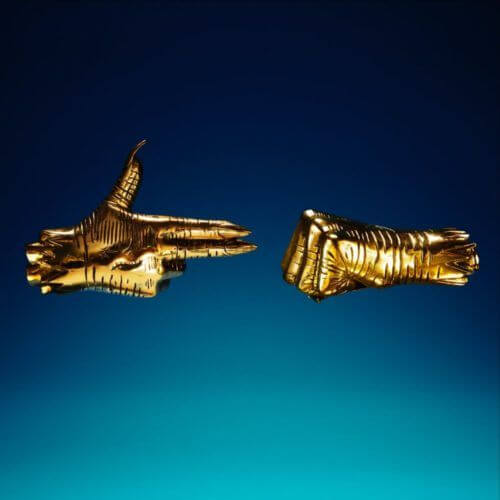 Run The Jewels – Run The Jewels 3 [Vinyle Doré]
Album : Run The Jewels 3
Artiste : Run The Jewels
Etat : Neuf
Format : Vinyle, 2 LP, Album
Label : Run The Jewels Inc.
Edition : Originale – 2 Vinyles Dorés + Stickers & Cover Poster
Date de sortie : 2016
Genre : Hip-Hop / Rap US / Rap Conscient / Electro Rap
Rupture de stock
---
---
El-P & Killer Mike balancent un 3ème uppercut et mettent le rapgame au tapis avec un triplé épique. Run The Jewels s'impose définitivement comme le groupe rap majeur de ces 5 dernières années.
Très peu de rappeurs ou groupes peuvent se targuer d'avoir sorti 3 albums de ce niveau là d'affilée, on pense à Outkast, Mobb Deep, Gang Starr… dans la nouvelle génération un seul nom nous vient en tête, Kendrick Lamar, qui rappait comme par hasard sur "Hood Politics" :

"Critics want to mention that they miss when hip hop was rappin'
Motherfucker, if you did, then Killer Mike'd be platinum"
Real recognize real.
Tracklist
1. Down (Ft. Joi Gilliam)
2. Talk to Me
3. Legend Has It
4. Call Ticketron
5. Hey Kids (Bumaye) (Ft. Danny Brown)
6. Stay Gold
7. Don't Get Captured
8. Thieves! (Screamed the Ghost) (Ft. Tunde Adebimpe)
9. 2100 (Ft. BOOTS)
10. Panther Like a Panther (Miracle Mix) (Ft. Trina)
11. Everybody Stay Calm
12. Oh Mama
13. Thursday in the Danger Room (Ft. Kamasi Washington)
14. Report to the Shareholders/Kill Your Masters
Le 1er album de Run The Jewels est aussi disponible en vinyle ici.
Informations complémentaires
| | |
| --- | --- |
| Poids | 450 g |
| Dimensions | 30 × 30 × 1 cm |