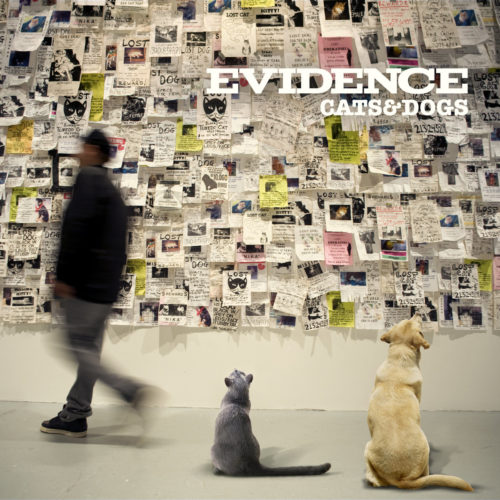 Evidence – Cats & Dogs [Vinyles Rose & Jaune]
Album : Cats & Dogs
Artiste : Evidence
Etat : Neuf
Format : Vinyle, 2 LP, Album
Label : Rhymesayers
Edition : Réédition 2018 – Vinyles Rose & Jaune
Date de sortie : 2011
Genre : Hip-Hop / Rap US / West Coast / Underground
Rupture de stock
---
---
Extrait de la chronique Hip-Hop 4 Life :
[…] Sa marque de fabrique, son slow flow mythique, est encore bien présente dans cet album et colle d'ailleurs très bien au tempo plutôt lent des productions.
Au même titre que Blu et Fashawn, Evidence représente cette scène alternive de Los Angeles qui a compris que le gangsta rap était définitivement mort et qui ne s'évertue pas à faire survivre une époque révolue. […]
La chronique complète de Cats & Dogs est à lire ici.
Tracklist
1. "The Liner Notes" (feat. Aloe Blacc)
2. "Strangers"
3. "The Red Carpet" (feat. Raekwon & Ras Kass)
4. "It Wasn't Me"
5. "I Don't Need Love"
6. "You"
7. "God Bless that Man" (Interlude)
8. "Fame" (feat. Roc Marciano & Prodigy)
9. "James Hendrix" (performed by Step Brothers)
10. "Late for the Sky" (feat. Slug & Aesop Rock)
11. "Crash"
12. "Where You Come From?" (feat. Rakaa, Lil' Fame & Termanology)
13. "Untitled"
14. "To Be Continued…"
15. "Falling Down"
16. "Well Runs Dry" (feat. Krondon)
17. "The Epilogue"
Les meilleures chansons d'Evidence sont dans la playlist Hip-Hop 4 Life : GodLovesUgly.

Informations complémentaires
| | |
| --- | --- |
| Poids | 750 g |
| Dimensions | 30 × 30 × 1 cm |