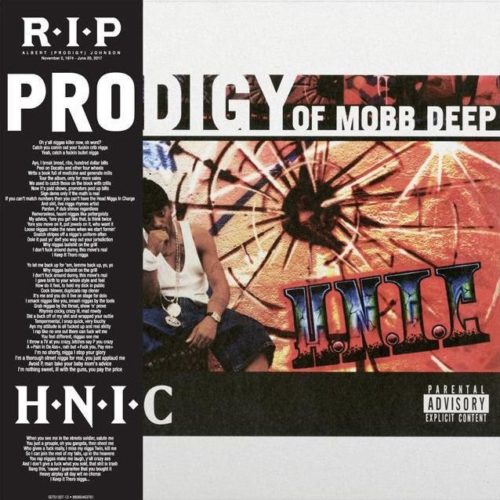 Prodigy – H.N.I.C. [Vinyle Record Store Day]
Album : H.N.I.C.
Artiste : Prodigy
Etat : Neuf
Format : Vinyle, 2 LP, Album
Label : Get On Down
Edition : Réédition 2017 "Record Store Day" – Edition Limitée "R.I.P. Prodigy" – 1 350 copies
Date de sortie : 2000
Genre : Hip-Hop / Rap US / Gangsta Rap / East Coast / Hardcore
Plus que 1 en stock
---
---
Réédition spéciale "R.I.P. Prodigy" de H.N.I.C. en vinyle, sortie lors du dernier Record Store Day en hommage au rappeur de Mobb Deep, Prodigy, décédé le 20 juin 2017.
Edition limitée à 1 350 copies.
Tracklist
1. "Bars & Hooks (Intro)"
2. "Genesis"
3. "Drive Thru (skit)"
4. "Rock Dat"
5. "What U Rep" (featuring N.O.R.E.)
6. "Keep It Thoro"
7. "Can't Complain" (featuring Twin Gambino, Chinky)
8. "Infamous Minded" (featuring Big Noyd)
9. "Wanna Be Thugs" (featuring Havoc)
10. "Three" (featuring Cormega)
11. "Delt with the Bullshit" (featuring Havoc)
12. "Trials of Love" (featuring B.K. (aka) Mz. Bars.)
13. "H.N.I.C."
14. "Be Cool (skit)"
15. "Veteran's Memorial"
16. "Do It" (featuring Mike Delorean)
17. "Littles (skit)" (featuring Littles & Big Noyd)
18. "Y.B.E." (featuring B.G.)
19. "Diamond" (featuring Bars & Hooks)
20. "Gun Play" (featuring Big Noyd)
21. "You Can Never Feel My Pain"
22. "H.N.I.C. (Outro)"
Tous les classiques de Mobb Deep à retrouver dans la playlist The Infamous.
La chronique du 2ème album de Mobb Deep, le mythique The Infamous, est à lire sur Hip-Hop 4 Life ici.
Informations complémentaires
| | |
| --- | --- |
| Poids | 500 g |
| Dimensions | 30 × 30 × 1 cm |